The Brass Player's Warm up and Practice Guide utilizes a unique accompaniment track that makes practice both interesting and effective. Used by Marine Bands, Army bands, schools, colleges, church orchestra players and individual brass students around the world.
DESCRIPTION
The 1st 14 minutes (5 pages) are a warm up which causes the practicer to rest as much as they play…..the practicer listens, then plays, and this pattern is repeated throughout the book.
The warm up section follows the accepted warm up practice of:
Soft before loud
Slur before tongue
Low before high
Slow before fast
These books are divided into 3 sections:
Warm up
Technique studies
Jazz Rhythm studies
After the warm up is complete, any other segment or segments of the book may be practiced, in any desired order.
The Brass Player's Warm-up & Practice Guide has been a tremendous benefit to my students and me. I personally use it every day. The warm-ups are very well organized, proceed in a very logical manner, and leave the player extremely well prepared to face many of the rigors of daily performing. The 'call and response' format with accompaniment not only teaches players to listen, but demands that they 'rest as much as you play' … a brass player's golden warm-up rule. Each exercise works well just as written, or, they can be easily simplified for younger students, or made more difficult as abilities develop. I can without reservation recommend this book as an aid to trumpet students of all levels." Robert "Bob" Feller Head of Winds and Percussion Biola Conservatory of Music Los Angeles Freelance Musician

John Gage's Brass Player's Warm-up & Practice Guide has been a great addition to my private trumpet students' arsenal. This is practical and systematic in it's approach and my students of all ages enjoy playing along with the nicely arranged CD. In my years of private study with the great performer/teacher, Harold 'Pappy' Mitchell, he always emphasized 'resting as much as you play' to build strength. The included CD is recorded with a fine player setting the example and then repeated by the student – the balance and listening are built in! It really makes warming-up fun. Many of my older (married) students have gotten raves from their wives that they like the more musical warm-ups and exercises – high praise indeed, from our toughest critics!🙂 Bernie Parsons Private Trumpet Teacher – California Freelance Player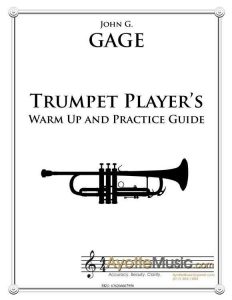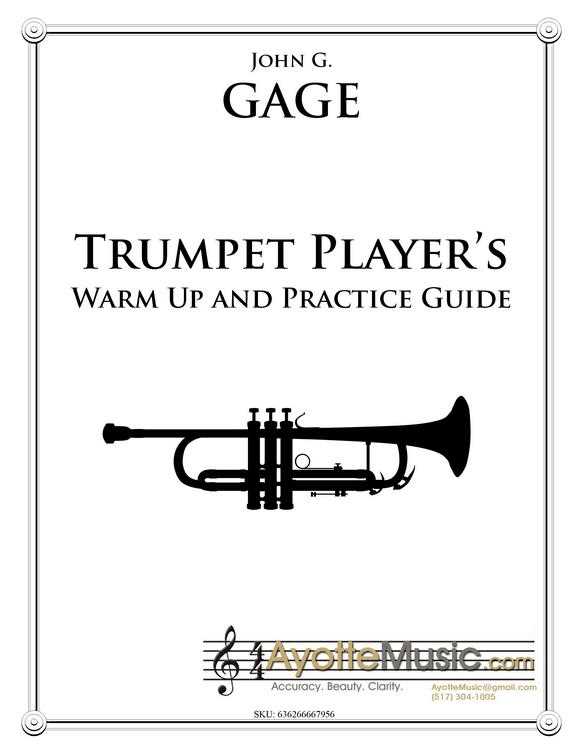 Trumpet, Cornet, T.C. Baritone

1
.
Tuning Note

2
.
Legato Half Notes

3
.
Fourths

4
.
Range Slurs

5
.
Extended Arpeggios

6
.
Transition to Part 2 (tonguing)
7
.
Lip Slurs
8
.
Octave Slurs

9
.
Two Octave Arpeggios

10
.
Articulation Study
11
.
Whole Tone Scales

12
.
Chord Study

13
.
Scales / Chromatics

14
.
Eighth Note Rhythm Study
15
.
Additional Resources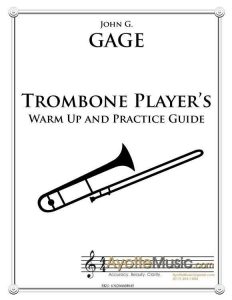 Trombone, Tuba, B.C. Baritone

1
.
Tuning Note
2
.
Legato Half Notes

3
.
Fourths
4
.
Range Slurs

5
.
Extended Arpeggios

6
.
Transition to Part 2 (tonguing)
7
.
Lip Slurs
8
.
Octave Slurs

9
.
Two Octave Arpeggios
10
.
Articulation Study
11
.
Whole Tone Scales

12
.
Chord Study
13
.
Scales / Chromatics

14
.
Eighth Note Rhythm Study
15
.
Additional Resources
---
Digital Download Version in PDF booklet with MP3 audio files here at

---
PRINTED BOOK WITH AUDIO CD AVAILABLE AT